G.M.Breweries Limited (GMBL) was set up in the year 1981 by Shri Jimmy William Almeida.
GMBL is engaged in the activities of manufacturing and marketing of Alcoholic Beverages; such as Country Liquor (CL) and Indian made Foreign Liquor (IMFL).

Mr. Jimmy Almeida' aim was to provide finest quality country liquor to the common man, who savours its taste, at the lowest possible price. The company is growing steadily and has earned a dedicated customer base. GMBL is the largest manufacturer of country liquor in the state of Maharashtra with a sizeable market share. GMBL also contributes substantially to the state exchequer by way of excise duty and value added tax.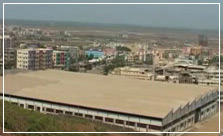 As Mr. Jimmy Almeida wanted to share his wealth with the society at large, GMBL came out with its Initial public offer of shares (IPO) in September 1993.The shares of the Company are presently listed at Bombay Stock Exchange and National Stock Exchange of India. GMBL has loyal shareholders base who has been rewarded with dividend continuously every single year after the public issue.
GMBL is having a state of the art fully automatic Bottling Plant at Virar, District Thane, in the state of Maharashtra with a capacity to produce about 50,000 cases a day. Initially The company started producing 200 cases a day which has now reached to more than 50,000 cases a day.
The country liquor industry producers were producing only 750 & 375 ml bottles only in the old days but it was Mr. Jimmy Almeida who introduced 180 ml bottles in the country liquor industry. Further he was pioneer in introducing pet bottles to the country liquor industry.